Achievements
ABIA – Top(NSW)Finalist since 2006 to present
ABIA Finalist 2016
The Chairman of ABIA, Mr John O' Meara congratulated Ceremonies with Style as a Finalist of the Australian Bridal Industry Academy Award. Mr O' Meara went onto say that it was businesses like Ceremonies with Style which enhanced and enriched the industry, through their tireless pursuit of excellence in Designing the Dream for each and every one of their unique wedding couples.
On behalf of all the New South Wales couples who tied the knot over 2015/2016, we say thank you Ceremonies with Style for the passion, pride and professionalism which you bring to the wedding industry and the assistance, advice and support which you bestow upon the future brides and grooms of New South Wales.

ABIA Designer of Dreams
Top 20 Marriage Celebrant 2015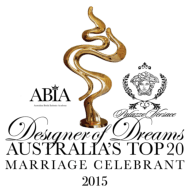 The 2012 Australian Designer of Dreams Titles
The 2012 Australian Designer of Dreams Titles is a national program designed to determine the who the best wedding suppliers are over a consecutive period of four (4) years.
The Chairman of ABIA Mr John O' Meara said that Ceremonies with Style should be extremely proud of being honoured by Australia's peak industry body as one of Australia's Top wedding suppliers, especially when one considers the level of passion and commitment required to consistently excel in the design of products and services which culminate in the delivery of the brides perfect day.