Celebrants Sydney
As a Lifecycle Celebrant it is my goal to create a personalized ceremony that reflect who you are as individuals and as a couple, celebrating your unique story. Professionally trained and educated in the creation of ceremony and ritual. I am also a OPD Trainer for the Gordon Institute of TAFE
It is an honour to be entrusted with a couple's wedding ceremony. Your story is important, and the feeling you want to convey in your ceremony is equally important. Above all, it is your wedding ceremony a wonderful opportunity for the two of you to have fun envisioning the look and feel.
I am a non-denominational/interfaith wedding celebrant, authorized to perform marriages renewal of Vows, funerals/memorial services, and pet memorial's, baby naming, Commitment and Celebration of Love ceremonies. From Byron Bay to Bowral. I honour all faith and cultural traditions and will thoughtfully craft a warm and memorable ceremony that celebrates your beliefs and values: religious, spiritual,or secular.
Whether your ceremony will be small or large, informal or formal, traditional or non-traditional, I will listen to who you are and what is important to you.
You might choose to write your own wedding vows. Perhaps include family members children or friends in your wedding ceremony. Maybe all you know at this point in your wedding planning is that you want a warm and joyful ceremony but have no idea what options are available to you. That's okay!
Together, we will shape your ceremony around what appeals to you, so that both the structure and content are an expression of who you are.
Your wedding ceremony is really the heart of your wedding day. It is the time when you cross an important threshold from your single life to your married life. We can never anticipate the surprises and wonders that wait right around the corner of our lives.
While I may not remove all the wedding jitters, I can reduce them by adding some humour when things don't work out as planned.
Contact me on 02 9999 1404 or 0425284330 to discuss your ceremony and detailed information on Package Pricing.
Available every day of the week, as a marriage celebrant and Interfaith Minister, I invite you to contact me to discuss your personal requirements.
Yes, I Hatch Match and Dispatch –
Specialising in weddings, I also perform Celebration of Love and Commitment Ceremonies (including Same-Sex Commitments)
Renewal of Vows, Name Giving and Funeral/Memorial services (including Pet Memorials).
Interviews available 7 days a week.
Service Area
Sydney & surrounding areas, Byron Bay to Bowral
Testimonials

John and I just wanted to say a big thank you for all your guidance on our wedding day and particularly in the lead up to the big day. We are so thankful for all the time and effort you put in to make our day so special. The vows and the ceremony meant so much to John and I.
Everything was just perfect on the day! I also loved your colour co-ordination – your powder blue suit was just lovely and it is those little touches that we really appreciated!!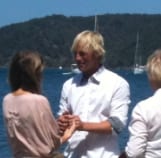 Jan provided nothing short of an incredible service for our special day – it could not have been easier. Jan conducts everything with pride, passion and professionalism, which are then topped with good nature, a thorough knowledge of the wedding process and an infectious genuine smile! To the couple-to-be: I would recommend you save yourselves valuable time and stop searching through the lists of other celebrants:- you've just found the person you need!'