Wedding Invitation Etiquette
A Guide For Writing Your Own Invitations
By Jan Littlejohn
You should send your invitations out no later than six to eight weeks prior to your wedding date. Post all local invites at the same time so no-one ends up receiving a late invite. Always make sure you place your return address on the back of the envelope just in case they get lost in the mail. For out of State or Overseas guests make sure you give them sufficient notice for them to attend if they wish. Some journeys may be lengthy and require a bit of saving.
Are you inviting any children to your wedding? If not then you would simply not put their names on the invitations. Invitations are about requesting someone's attendance so don't be tempted to put 'No children please'. Should your answer be yes invite children by including their name on a line below their parents. Teenage children can be sent their own invitations.
Traditionally your Thank You notes should be sent no later than one month after receiving your gift. When sending a thank you, its much nicer and I'm sure much more appreciated if you hand write your note rather than having them printed. It's a nice idea to have both you and your husband sign them. Try to keep a record of what each guest gave you as a gift so you can thank them for what they gave you. Remember there are no written rules. Don't be afraid to develop your own style to create invites that are as individual as you.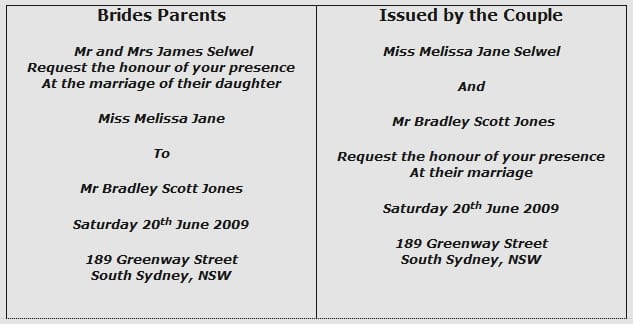 Jan Littlejohn is a one of Australia's most respected Celebrants for all occasions. Jan Littlejohn will share with you her expertise, knowledge, tips and resources that have been published around the world – visit www.ceremonieswithstyle.com.au